Meet Talyn
Seeing this smiling face, you'd never know what Talyn has been through.

When five-year-old Talyn got home from school one day and complained that her feet were hurting it didn't seem serious. When her neck and back also became sore and she was in a lot of pain, her anxious parents took her to their local Hospital.

While she was being examined Talyn lost all her strength and appeared to have no reflexes anywhere in her body. She was rushed to Sydney Children's Hospital, Randwick and taken directly to the Intensive Care Unit.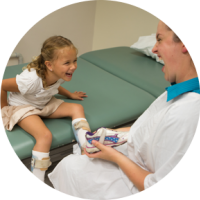 Despite every challenge Talyn has faced she has never stopped smiling.
Talyn's diagnosis
Before any tests could be carried out Talyn stopped breathing and had to be intubated. Once she'd been stabilised, doctors performed an MRI which revealed the diagnosis – Transverse Myelitis, an extremely rare neuro immune disease that attacks the spinal cord.


Talyn spent four weeks on life support with her parents by her side. All they could do was wait.


Eventually, Talyn started to improve and began to regain some movement in her arms and hands, but she'd lost all her fine motor skills.
Rehab2Kids support
She was then moved to our Neurology ward, where Rehab 2 Kids specialists supported her through physiotherapy, hydrotherapy and occupational therapy to help her regain the use of her muscles.


Over the next four months, she gradually re-learned how to do basic things like pick up a spoon and a pencil, but progress with Talyn's legs was a lot slower. Her doctors were unsure how much she would improve but her family remained positive.
One evening her mother was changing Talyn when she felt her legs push back and everyone was ecstatic! It was her first movement since she became ill and a huge step in her recovery.

Talyn is back at school now and continues to make great progress.