How some magnetic beads saved Kini's life
Born without a working immune system, Kini urgently needed a bone marrow transplant when he was just three months old.

A global search revealed none of the 25 million registered donors were a suitable match and even Kini's mum, Melita, was only half a match which meant that there was a strong chance Kini's body would reject the cells.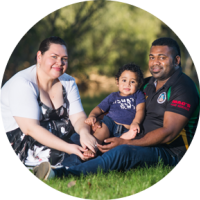 "We're so grateful to the Hospital for saving Kini's life."
– Kini's mum, Melita
A new immune system
The only other option was an extremely complex and innovative procedure with our Kids Cancer Centre which had never been attempted
before in Australia.


A new immune system was created for Kini using his mother's bone marrow. "It's challenging and you don't get a second chance at this sort of medicine," says Kini's doctor, Associate Professor Tracey O'Brien, a world-leading expert in blood and bone marrow transplants.


"It's like planting a seed to grow a plant. The stem cells have given him extra T-cells to fight infection until his immune system is more mature."


The transplant cells were engineered using specialised magnetic beads to grab onto unwanted cells in his mother's blood. The stem cells left behind were building blocks of the new immune system which would help defend Kini's body.
Beating the odds
After celebrating his first birthday at the Hospital Kini was finally able to leave the isolation ward and go home to the Northern Territory.


There are thousands of kids like Kini who have such remarkable stories of survival. It is only with donations from our supporters that we are able to provide the equipment, research and expert care that Kini needed and that so many other kids may need in the future.