Our Art Program is one of the things that makes Sydney Children's Hospital, Randwick so special.
A huge range of works fill the corridors with colour and creativity and in the wards, art helps to distract and relax patients, families and staff.

Fully funded by Sydney Children's Hospitals Foundation, the Art Program exists to make the Hospital a vibrant, reassuring and colourful place of healing and culture, where children feel safe and happy.
Sydney Children's Hospitals Foundation Art Program is a registered public collection with the Department of Communications and the Arts via the Cultural Gifts Program.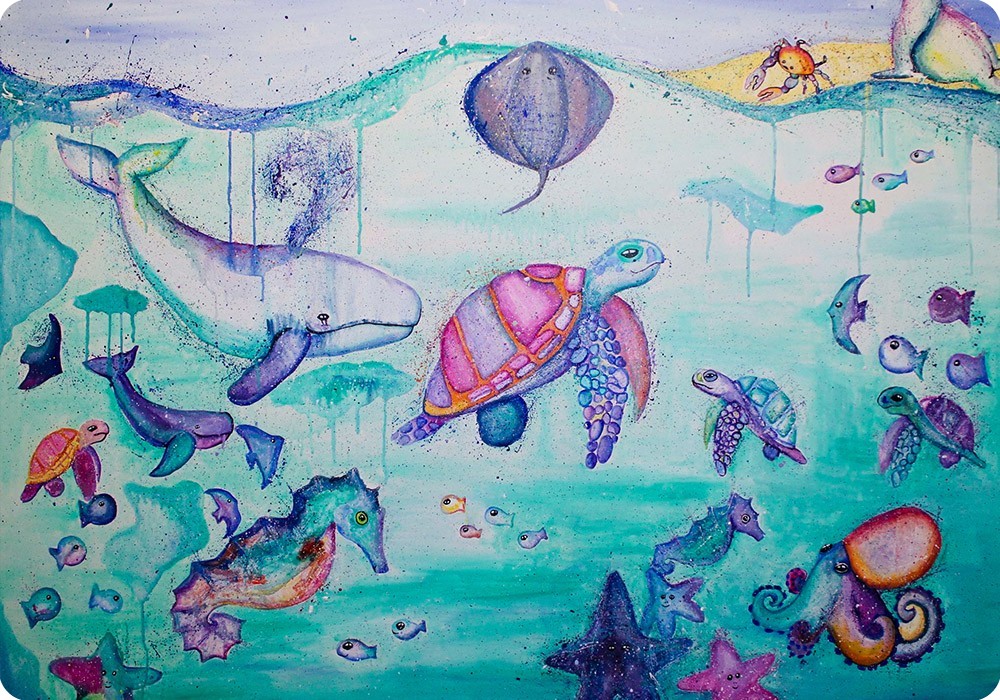 We deliver our Art Program in five key ways:
Art collections
Paintings, sculptures, prints, photography and digital art can be seen throughout the Hospital, from the welcoming Foyer to Treatment Rooms and Wards. We manage and expand a permanent collection through donations and philanthropy on an ongoing basis.
We now hold more than 900 artworks in our collection, thanks to the generosity of artists, art patrons, donors, commercial galleries and even our patients and their families. We are proud to feature art from such important artists as Del Kathryn Barton, Robert Dickerson, Elizabeth Cummings, Alan Jones, Jasper Knight, Shaun Tan, Angus MacDonald and David Bromley. We also have a growing Digital Arts Collection featuring new media work by filmmakers, students, artists and our very talented patients.
Exhibitions
The Hospital corridors are transformed every three months with a rotating exhibition schedule of selling shows. Featuring art from independent and emerging artists, these exhibitions offer patients a window to an external world that is creative, educational and inspiring. All exhibition openings are held at the Hospital and are open to the public.
By purchasing art from our exhibitions, you help the Art Program raise funds for the Hospital and support local artists. Visit our current exhibitions.

ArtEx workshops
We integrate the visual arts into the Hospital's rehabilitative and education services through regular ArtEx (art experience) workshops, in collaboration with local artists. In 2016, more than 120 workshops were held with patients and their families across the Hospital, including the Child and Adolescent Mental Health Service, Sydney Children's Hospital's School and by the bedsides of patients in collaboration with the Child Life and Music Therapy Department. Please note, we do not provide Art Therapy services.

Art areas
From time to time we develop the Hospital's art areas as a forum for public programs and events to benefit the Hospital and wider community.

Interns and volunteers
We build the capacity for arts interns and arts workers through the Art Program postgraduate internship and volunteer program.
How you can help
The Art Program depends on the generosity and support of the community to deliver its wide range of services and benefits to the Hospital.

Here's how you can ensure its success:
Donate funds to help us continue to deliver and expand our key arts-in-health services
Buy contemporary art from our Hospital exhibitions
Donate significant artworks (both digital and 2-D) to our Art Program
Volunteer to help hang our seasonal rotation of exhibitions
Contribute to our annual exhibition schedule
Participate as a pro bono artist in our ArtEx workshops


For more information please contact the Art Program team on 1800 244 537 or art@schf.org.au.
By purchasing art from our exhibitions you help the Art Program raise funds for the Hospital and support local artists.
q

Connect with our Art Program